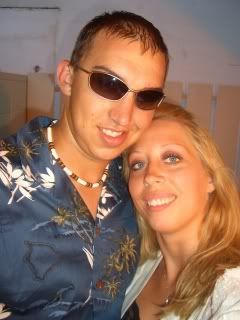 Welcome to the chronicles of our ever-exciting (and sometimes downright boring, if I'm being totally honest here) life as a new family of three!
I married my best friend and partner in crime on July 7, 2007.
And this little gem (pun most definitely intended), Ruby, graced our lives on November 10th of last year and continues to be an amazing light in our lives-she's a wonderful gift!
Chances of finding me experimenting with new craft things or baking at any given time are quite great. As is the chance of me putting off the completion of things (read: cleaning my house or lesson planning) by blogging.
At times, I seem to be a walking version of Murphy's law, but it keeps life interesting! I work with kiddos on a daily basis and come home and have the temptation to act like a first grader as well, so life is never boring.
Take for example, last night. Jimmy and I did what any normal couple would do on a Friday night upon seeing a bag of mini marshmallows (that we had no use for). We stuffed as many as we could into our mouths. Score-Hillary: 67, Jimmy: 250. Consensus-husband has an abnormally large mouth. Would it be weird if I told you that I don't even like marshmallows?!
I started blogging because I want to be able to look back and remember the details. My mom recorded random kid doings and sayings on a yellow legal pad and we have enjoyed looking back at that on multiple occasions. This is just a more modern version..and one that can be shared a little more readily with many friends and family.
UBP is hosting some great prizes-if I win, I would love to win:
$100 gift certificate to either
Pedal Cars and Retro
or
A Rocking Horse To Love
$25 gift certificate to
Happy Panda
(lets face it, anything baby-related is fair game!)
Core Fitness
for Mom DVD from Moms into Fitness (what, I didn't say I was perfect, now did I?)
Aromatherapy book and a sampler of therapeutic essential oils.
Provided by:
Jennifer at
Oils For Wellness
Internet password organizer & Mommy Rescue Guide Toddler Meals cookbook
Provided by:
Jodifur
$25 gift certificate for
Shutterfly
Provided by:
SandwichINK.com
A neato mommy & toddler gift basket!
Provided By:
Seven Dogs and a Baby
I'd also love any of the following (US Prizes)prizes:
#s: 12, 14, 16, 19, 21, 22, 23 45 49 52, 58, 62, 76, 77, 78, 105, 106, 109, 118, 123,